Corrugated Roof Flashing
Manufactured by SG Eco Industries Inc., Corrugated Flashing eliminates the need for using lead on tile roof flashings. Comprising of 2 layers of aluminium with rubber inserted between, the corrugated flashing is flexible enough to mould around the tiles, and heavy enough to stay in position once installed. Produced in a mill or powdercoated finish, and in any length up to 1600mm long this corrugated flashing can be incorporated into almost any product.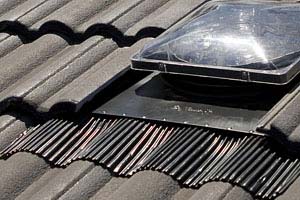 We can source other materials for custom fabrication purposes if required.