During the annual Christmas party, aside from the usual gift Giving, SG Eco comes up with the idea of showcasing company's environmental commitment to creation of a project that will reflect Christmas. The eco friendly inspiration of recycling scrap materials from production to Christmas ornaments was dubbed as "Spectacular Ingenuity from Eco Friendly Family". Three Christmas ornaments were presented to demonstrate employees' talent in creativity, artistry and uniqueness.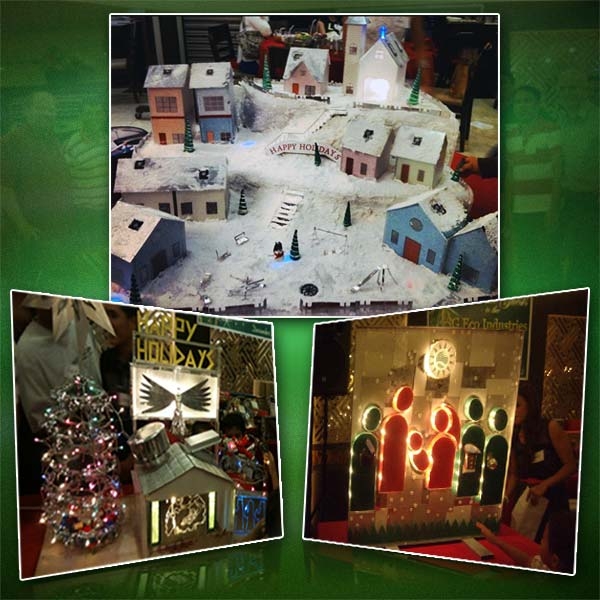 Snow village (top image), Christmas Belen (lower left) and Nativity (lower right)
Snow village, Christmas Belen and Nativity became the ornaments theme. Snow village was made of saw dust from diffuser scattered all over the village as snow, houses are made of luminous diffuser off cuts with light installation inside which will glow and miro off cuts for playground accessories and roofs.
The Christmas Belen is made of different scrap material such as rivet pins for the roof, flexi tube and aluminum cone rejects for Christmas tree, thin aluminum off cuts for green vent wind and angel, metal off cuts for hatchways, diffuser off cuts for the house and text greetings, Santa's Harley is a combination of bearing rejects and rivet pins and miro off cuts for the personas with light installation.
For Nativity, the frame is made of aluminum off cuts, zinc alum, color bond and aluminum combination for backboard, diffuser with colored paper waste for personas, and sheet metal craps for 3 kings' gifts (Green Vent wind, Sky Tunnel and Whirlwind).